ANNOUNCEMENTS
It's time to make reservations
for our 60th Class Reunion
The Huntington High School Class of 1959 will be celebrating our 60th Class Reunion September 20-21. We are looking forward to seeing you as we gather to celebrate our years at HHS, to renew old friendships and to remember and honor those classmates who are no longer with us.
The reunion will open on Friday (Sept. 20th) with an old-fashioned class mixer at Davis' Place, 803 8th Street, just down the street from HHS. This restaurant, in business since 1940, is now a classic neighborhood grill. There will be a buffet featuring those famous Midway hotdogs and an assortment of other munchies and non-alcoholic drinks. A cash bar will also be available. As a special treat we will have some of the great music of our era, played by our own great classmate musician Dick Lucas. Dick has agreed to put together a tape of his music just for us.
Our Saturday (Sept. 21st) activities will begin in the morning with a festive reunion brunch that you won't want to miss. Details of the brunch will be sent to you later. On Saturday afternoon classmate Randall Adkins has arranged an afternoon social gathering for us to view the spectacular private art collection of Jack Bourdelais. You will hear more about this shortly.
The Saturday night 60th Reunion gala will be at the newly renovated Marriott Delta hotel, 3551 U.S. Rt. 60 in Barboursville. Conveniently located near the Huntington mall, the hotel has ample free parking and is handicapped accessible (no steps!). We will begin the evening's activities with a social hour and then we'll be treated to a full buffet in the private dining room that has been reserved for us. Of course we have more of the music of our high school days and plenty of time to visit with our classmates.
During the dinner we will pause to remember our deceased classmates with a memorial ceremony. We have now lost 150 members of our class.
For those coming in from out of town and would like to stay at the reunion hotel, a block of rooms is being set aside for you at special rate of $129 per night. You can check out the hotel at https://www.marriott.com/hotels/travel/htsde-delta-hotels-huntington-mall/?scid=bb1a189a-fec3-4d19-a255-54ba596febe2. Tell the reservations clerk that you are with the Huntington High group to receive the reduced room rate. Please note the hotel offers valet service to and from the Huntington Tri-State Airport. There are also several other motels nearby that offer rates as low as $65 per night. These include the Red Roof Inn, Hampton Inn, Econo Lodge, Motel 6 and the Days Inn. If you are interested in staying downtown, please let us know and we will contact you.
We also want to let you know that for those coming in early for the reunion, and for the classmates in town who would like to kick off the reunion a little early, we do plan to have a "Dutch treat" get-together on Thursday night at a restaurant in downtown Huntington. Please let us know if you are interested in attending this event.
The charge for all reunion activities will be $65 per person and we would really appreciate hearing from you as soon as possible in order for us to complete our plans. Complete information for making reservations is contained in an e-mail which has been sent to you. If you have any questions, post e-mail us at hhs59@earthlink.net.
Welcome to our updated class web page. We have re-designed the page to make it easier to open on tablets and smart phones. Note that if you are accessing the page on your smart phone that the index can be accessed by clicking on the three bars at the top right of the page. Let us know if you experience any problems. We have also added more pictures and would still love any pictures you would like to share with your classmates. If you have any questions or suggestions just click the "contact us" bujtton at the top of this page.
If you haven't checked out our Pony Express Chatter feature you are missing out on one of the best features of this class web site. You can post messages to your classmates as well as getting caught up on comments and news of your friends. This is also a great place to post your birthday wishes.
Our classmate Judy Baumgardner Jordan is a talented artist, She recently had a showing of her art and we wanted to share one of our favorite pieces with you. Shown here is a painting entitled "America" that Judy did in honor of her grandson who is serving in the Navy. Judy works in mediums ranging from watercolors to concrete (no kidding).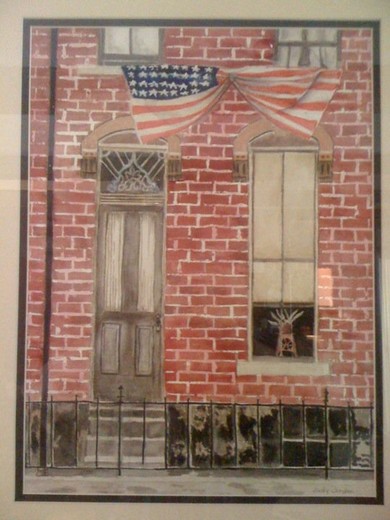 For those of you new to the page, take a moment a read the information contained in the "First Time Visitors" tab on the menu located at the top of the page. If you have any questions about using the site you can also contact us by simply clicking the "Contact Us" tab on the top menu.
Don't forget to check the "Pony Express Chatter" for the latest postings by your classmates (and you can add your own posts and pictures). It may taken a few seconds to load but the wait is worht it. Also,be sure to check the "Message Center" from time to time. You'll find the tab in the "Member Functions" section. This is a great (and easy) way to communicate among ourselves without going through e-mail systems. Check it out!
Welcome to the new Huntington High
School Class of 1959 Web Site
We hope you will take advantage of this web site to keep your classmates up to date on you and your activities. If you have any questions about this site, e-mail us at hhs59@earthlink.net or click on the "Contact Us" tab at the top of the page and fill in the blanks. Please let your friends know about the page. The administrators of the class web page are Mike Hoback, Jay Bowen and Barbra Charles Haptonstall. The full web address of this page is http://www.hhs-59.com.Thanks to the vigorous efforts of Tom Lambert, we have been able to add obituary information on our deceased classmates. Note that some advertisements may appear on the page(s). We are allowing these ads in exchange for providing the web service at no cost to us.
If you would like to join this web page and cannot locate your name in the Classmate Profiles listing, please e-mail us at the address listed above. To Join the page, follow instructions listed below. Feel free to post your comments in the "Pony Express News" section and they will be seen by your friends. (Please, no political commentary-save that for Facebook!)
Joining this website is as easy as 1, 2, 3...
Register and create your own personal password to gain access to all the features of your website It's easy, free and secure.
Simply click on Classmate Profiles at the top, find your name, click on it, and follow the prompts! If you're still stumped, click on Contact Us for help!
PRIVACY NOTICE: All contact information (address, phone number, e-mail address) entered into this website will be kept confidential. It will not be shared or distributed. Your contact information is private: your street address, e-mail address, and phone number cannot be seen by the classmates unless you grant permission on your Profile. When someone clicks on your name, the only contact information they will see is your city and state and whatever information about yourself you choose to put on your Profile. Unless you explicitly grant your permission, your email address is not visible, although an email can be sent to you using the contact box at the bottom of your Profile page. Note, however, if you send a message to someone through their Profile page, the Classmate will see your email address so that they can respond.
MEMBERSHIP DISCLAIMER: This is a private site for Huntington High School class of 1959 graduates. Classmates that did not graduate with the class, or that graduated from other years may be admitted on a case by case basis. All membership, regardless of graduating year, will be granted or denied, at the discretion of the site administrator. All memberships may be revoked at the discretion of the site administrator. The privacy and security of all registered members will be considered a priority for the purpose of invitations, admittance, denials and revocations.
Email notifications from this web site: For those of you with spam blocking or e-mail filtering capabilities,please add noreply@classcreator.net to your email account as a safe sender in order to receive e-mail communication from this web site. We do not want to receive "bounce back" e-mails and don't want you to miss receiving e-mails from other classmates. Please email with any questions.